1. I do not cook.
2. I sometimes post recipes on this website.
It's a very strange thing that I do with food at home. I have a lovely new kitchen but only use it for tea. I don't cook many meals, which is okay since my family is divided in personal taste preferences. Once a month or so, I do try a new recipe for book club, and that's pretty much the only time I cook. It's weird that I choose something completely new to me, too! Anyways, I made naan bread last time, and I just made it today for my office potluck. And you know what? It's pretty darn good. My husband even likes it!!!
I used this recipe from allrecipes.com, ommiting the garlic and proofing the yeast with a tablespoon of sugar in the beginning. The first time I made it, I hand kneaded. The second time, I used my Kitchen-Aid. The Kitchen-Aid made the process much easier. I do not own a grill, so I purchased my very first George Forman grill, and it worked like a champ! I love naan, and now I am happy to be able to make it myself from scratch and never have to buy it again!
 
Ingredients
1 (.25 ounce) package active dry yeast
1 cup warm water (about 110 F)
1/4 cup white sugar
3 tablespoons milk
1 egg, beaten
2 teaspoons salt
4 1/2 cups bread flour
2 teaspoons minced garlic (optional)
1/4 cup butter, melted
directions
1 -In a large bowl, dissolve yeast in warm water. Let stand about 10 minutes, until frothy.
2 -Stir in sugar, milk, egg, salt, and enough flour to make a soft dough.
3 -Knead for 6 to 8 minutes on a lightly floured surface, or until smooth.
4 -Place dough in a well oiled bowl, cover with a damp cloth, and set aside to rise.
5 -Let it rise 1 hour, until the dough has doubled in volume.
6 -Punch down dough, and knead in garlic.
7 -Pinch off small handfuls of dough about the size of a golf ball. Roll into balls, and place on a tray.
8 -Cover with a towel, and allow to rise until doubled in size, about 30 minutes.
9 -During the second rising, preheat saute pan over medium high heat.
10 -Roll one ball of dough out into a thin circle. Lightly oil pan. Place dough on pan, and cook for 2 to 3 minutes, or until the surface begins to bubble.
11 -Brush uncooked side with butter, and turn over. Brush cooked side with butter, and cook until browned, another 2 to 4 minutes.
12 -Remove from pan, and continue the process until all the naan has been prepared, keeping the cooked ones warm in the oven until they are done.
Individuals rolls left in the fridge to rise overnight.


My George Forman.


Flattened, then placed on the grill.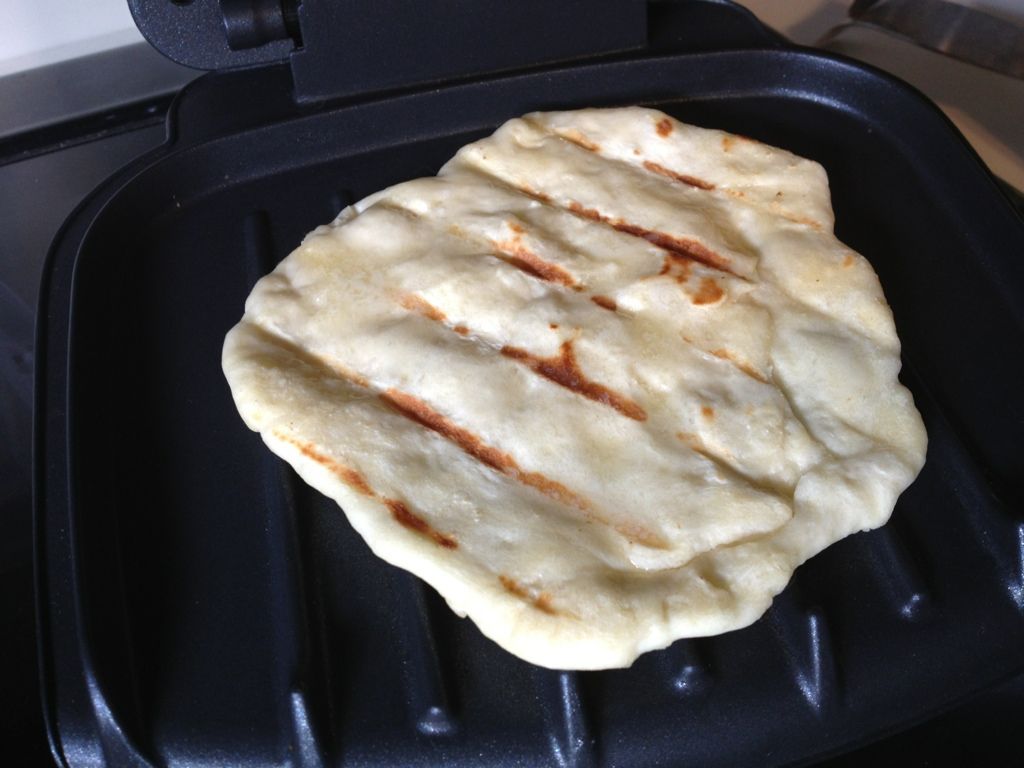 Cooling, then cut for presentation.


At home at the potluck.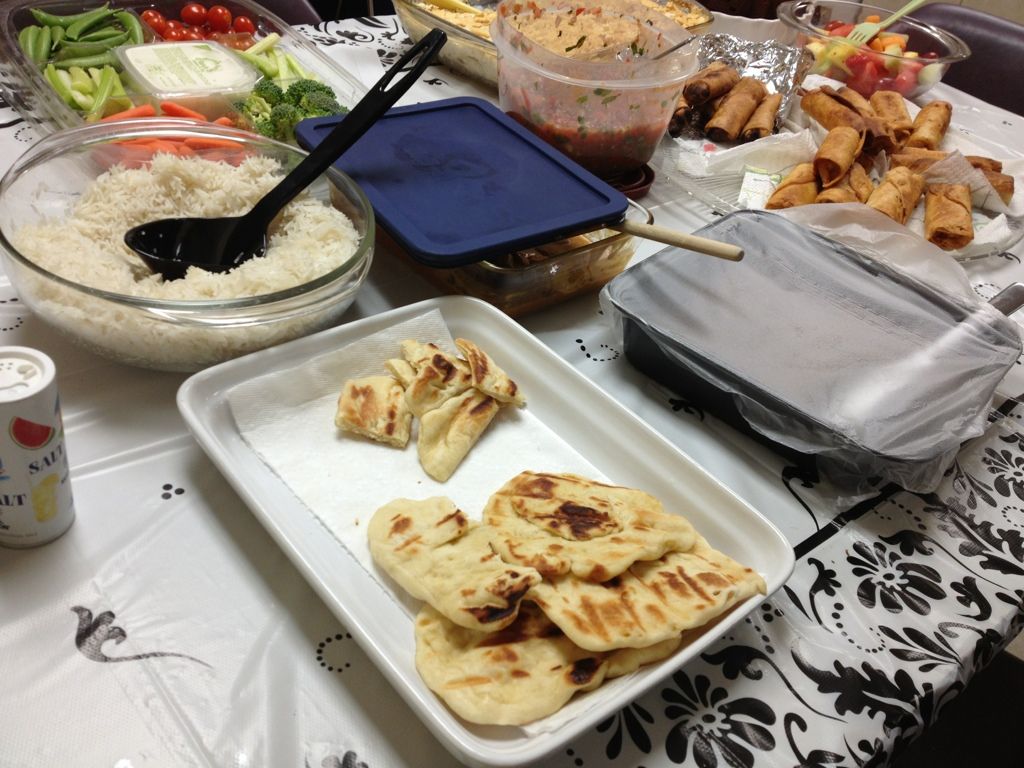 Om nom nom.