Hello, everyone. Recently, you may have seen me wearing this.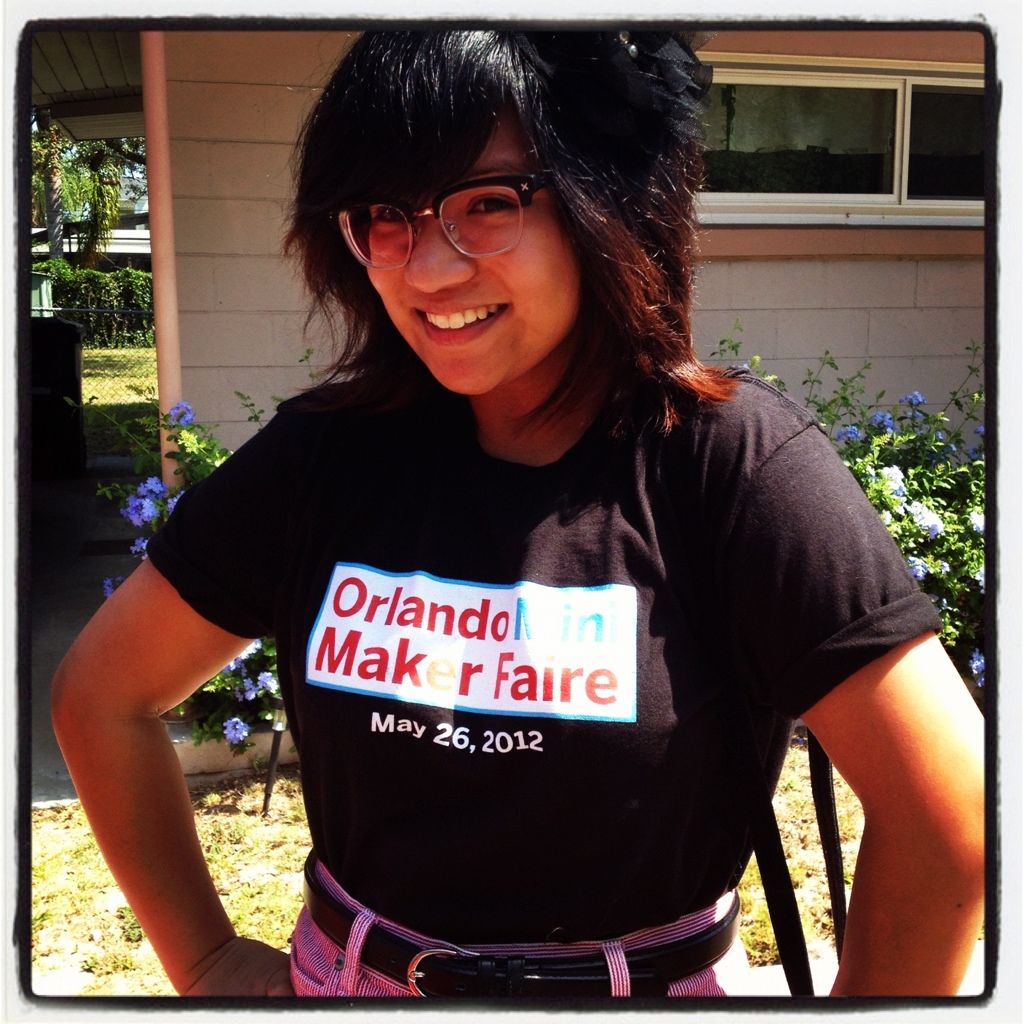 Wandering around town, trying out tricycles at your local Toys R Us.
Jumping around without a care in the world.
You know… the usual.
I have turned myself into a walking billboard for a very exciting local event coming to the Orlando area! And what may that be?!
You may ask, "What the what?…"
According to their website:
Orlando Mini Maker Faire is a community-organized, family-friendly celebration featuring DIY science and technology, rockets, robots, arts, crafts, and music. The event will be held on May 26th, 2012 at the Central Florida Fairgrounds. With over 36 thousand square feet of air conditioned exhibits plus a Power Racing Track, Orlando Mini Maker Faire will be one of the largest community organized "Mini" Maker Faire events in 2012.
I am fortunate to know several of the minds behind the Orlando Mini Maker Faire, and they are some of the same people behind the awesome hackerspace FamilLAB and the amazing annual event TEDxOrlando. Personally, I am not a great maker, but I did attend a few classes last year that were held by FamiLAB. (Click here to see an Intro to Arduino class I attended with my husband, Bill/Abyssknight.) The Central Florida area has apparently become a hot spot for finding the newest and best in technology. Events like this happen in big cities, and to have them come to our little magical town is something I never would have thought possible.
Whether you are a maker, a tech geek, an creative enthusiast, or a Central Florida resident seeking out something unique and brand new, please keep your calendar cleared for this one. Bill will be volunteering with the FamiLAB table, so come and say hello to them. I have been promised a spending allowance to buy some goodies from Antisparkle…
The Orlando Mini Maker Faire will hold its inaugural event on May 26, 2012 at the Central Florida Fairgrounds. Information on tickets and how to attend can be found here, but tickets in advance are $8 for adults and $5 for children, with prices rising to $10 for adults and $7 for children on the day of. Please visit the website and follow @OrlMakerFaire.